A Historic Timeline of Court Reporters' Favorite Tool
Information and graphics found on stenograph.com
The Stenograph Shorthand Machine (1877)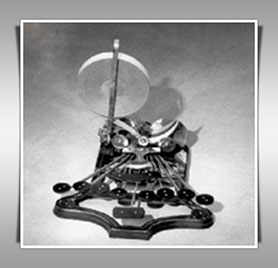 Invented by Miles Bartholomew, "Father of the Stenograph" in 1877.
Ten keys could be depressed one at a time, created series of dots and dashes similar to Morse code.
First machine to become standard in the court reporting field.
Anderson Shorthand Typewriter (1889)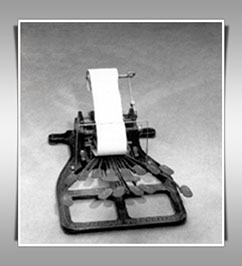 Created by George Kerr Anderson.
First keyboard that allowed two or more of its keys to be pressed at the same time.
Used English characters instead of code, which allowed words and symbols to be written.
Ireland Stenotype Shorthand Machine (1911)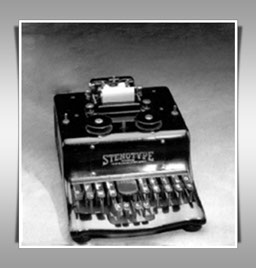 Invented by the Universal Stenotype Company.
40 pounds lighter than its predecessor.
First stenograph with totally depressible keyboard, allowing reporters to write numbers/words phonetically with fewer strokes.
Master Model Stenotype (1914)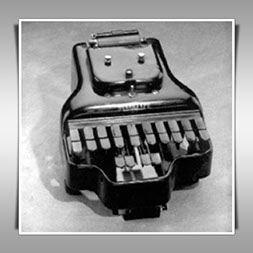 Developed by the Universal Stenotype Company before bankruptcy during World War I.
Weighed six pounds instead of eleven.
1927 LaSalle Stenotype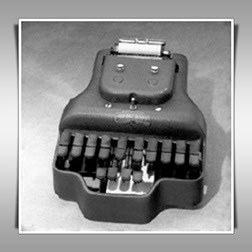 Nicknamed the "Master Model Four."
Used two-spool ribbon system.
Stenograph Shorthand Machine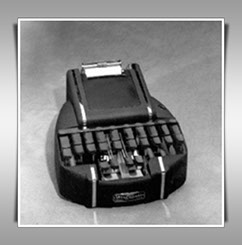 Known for its dependability and quiet.
The Secretarial Model used a single 11-inch ribbon and held 100 folds of paper.
Reporter model held 300 folds of paper. 
Stenograph Data Writer (1963)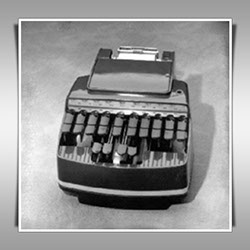 Encoded a magnetic tape with machine notes for computer transcription
Organ-type switches assured good transmission with minimum key pressure.
Could be connected to a cable attached to a tape recorder in 1963.
By 1970, cartridge could be utilized.
By 1974 cassettes were used instead.
1982 Stenograph Machine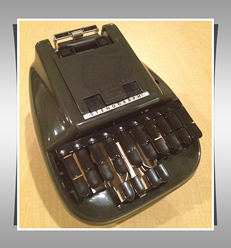 Plastic shell made the machine more durable.
1987 SmartWriter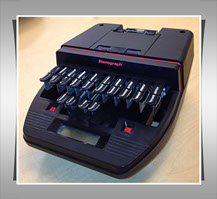 Had the ability to encode machine notes on a floppy disk.
1992 Stenograph Stentura Series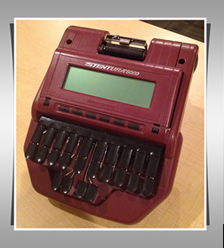 First machine that featured instantaneous, realtime translation (to English or Steno) onto an LCD screen.
 2001 élan Cybra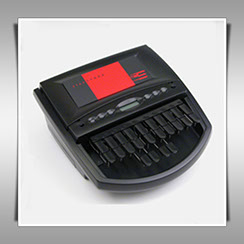 Paperless, inkless, ribbon-less, and greaseless. 
Included a wireless feature, specifically designed for realtime reporting. 
2003 élan Mira Series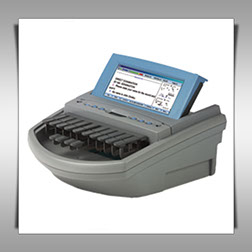 Flip LCD screen for easier viewing.
Featured Audiosync® OTG – on the go!, a USB port for writing realtime, and a DB9 serial port wireless Bluetooth.
2005 Stentura Protégé Student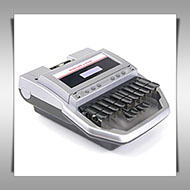 Designed specifically for students.
Featured USB and serial connectivity, as well as optional wireless realtime.
2005 Stentura élan Mira Student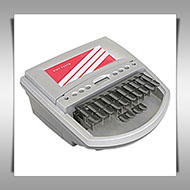 Designed students with students in mind, known as the "paperless writer for students."
Featured same technology as the professional version, but in a limited fashion at a student price.
2006 Stentura Fusion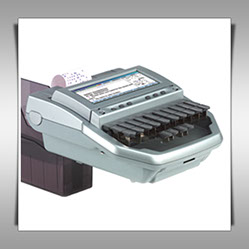 Key feature of this machine is ability to use paper, or be paperless.
Compatibility with SD cards, recording live testimony using AudioSync OTG, USB ports, DB9 ports, and battery status display.
2009 The Diamante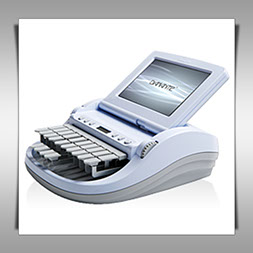 Features vibrant flat-panel display, two SD cards slots, two USB ports, microphone and headset jacks for AudioSync, and optional Bluetooth or WiFi realtime translation.
2015 The Luminex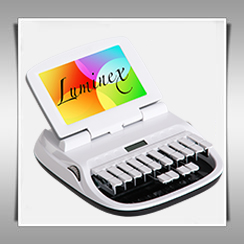 Duel key channels keep keys in alignment, and chrome plated key levers reduce friction and provide smoother action.
Our Salt Lake City Offices
50 West Broadway, Suite 300
Salt Lake City, Utah
84101
Salt Lake City Legal News
Recent Posts from Our Blog
Credit: Quartz It is crucial that we do everything in our power to remain safe and healthy as we face our current health crisis. The situation changes on a daily basis from the international to local level, so while it is important to keep a variety of news outlets on...
read more